DMC-8045 Moving Column Machine With 5 Face Milling Machine
Takam

China/Taiwan

180 Days
1.Takam Machines Quality tests includes:
- Half complete 3-axis accuracy check
- Half complete 48 hours test run
- Complete 3-axis accuracy check
- Complete 48 hours test run
- 100% complete check
2.With the moving column design, customer is able to load heavier work piece on to the worktable without any hesitation.
3.The Takam DMC Series customer can customize and choose which ever length it is the best fit for their work environment. So the customer can save the most for the budget they are spending.
The Takam DMC-Series is a customized moving column series machine
1)Moving column machine center, work table is stationed in place;
a.Machine work table can load high capacity,suitable for larger product;
b. With larger work loading space, customer can easily load work piece.
c. Machine accuracy will not be damaged due to heavy work piece weight.
d. Can easily install clamping system, can machine many work pieces at one time. Decrease machine stop tume and decrease production cost.
2)X axis uses high accuracy rack and pinion system, ensure the accuracy and stability performance of the machine.
3)Standard with auto indexign five face milling head, so the work piece can finish machining in one time, decrease the time for changing work piece, ensure the accuracy for machining parts.
4)With moving controlling station, easy access for the operator to follow the progress of the machining. Easy for maintence and operation.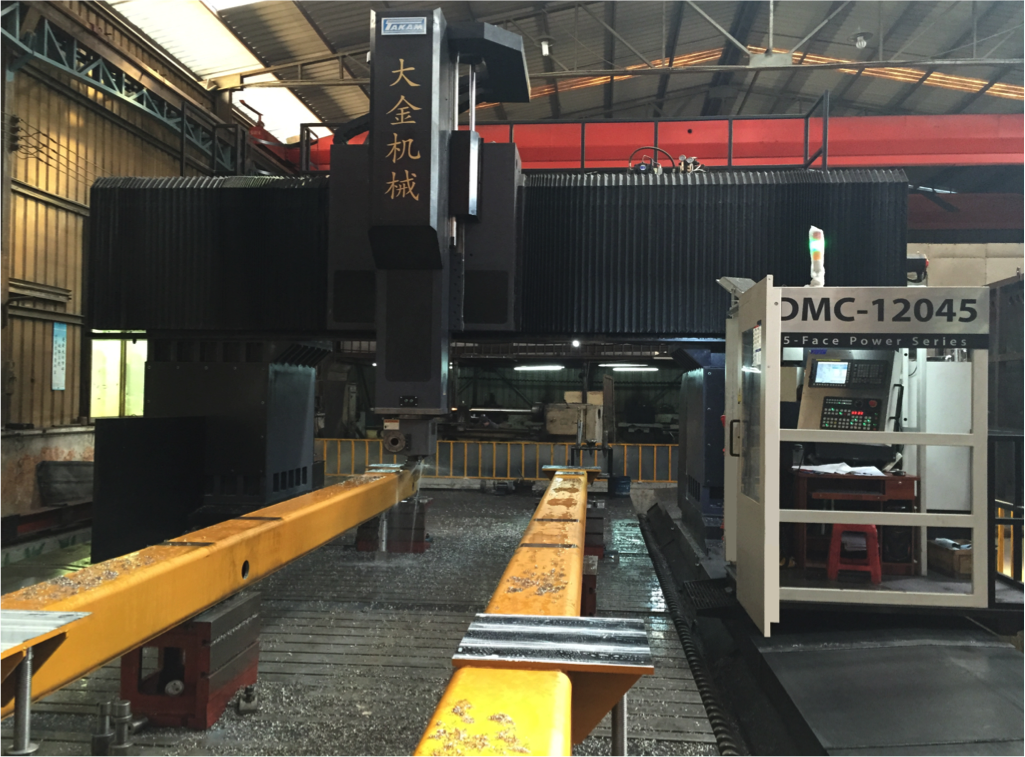 Machine Data Specifications
Subject

Unit

Size

Travel

X-axis Travel

mm

8000

Y-axis Travel

mm

4500

Z-axis Travel

mm

1500

Spindle Nose to Worktable Surface

mm

300-1800

Spindle Center to Stand Column

mm

650

The spacing between the two columns

mm

4000

Worktable

Worktable Surface to Beam Height

mm

2100

Worktable Size

mm

8000×3000

T-slot

mm

28×200×11

Max Load on Worktable




5000KG/M2

Spindle

Spindle Speed

rpm

6000

Spindle Taper




BT50

Spindle Motor

KW

22/26

Axis Motor

KW

(6×4/6/6)

Spindle Transmission Ratio




1:1,4:1

Accuracy

Positioning ±

mm

0.12

Repeatability ±

mm

±0.015/500

Drive Type

X-axis




X-axis Rack 1:66

Single Side Double Motor Drive

Y-axis




Speed Reducer 4:1

Z-axis




Speed Reducer 3:1

Z-axis counter weight mode




Hydraulic + nitrogen

Feedrate

Cutting Speed

mm/min

1-5000

X/Y/Z Rapid Traverse

m/min

9/10/10

Ball screw diameter/pitch

mm

Y:80/16 Z:63/10

Line (hard) track width/number of tracks




X:65mm/4 Y:65mm/3 Z:Box Way Type

Other

Air Required

kgf/cm2

6.5

Machine Weight

T

120

Machine Height

mm

7000

Floor Space

mm2

16000×9500

Z axis Box Way Type

mm

580×580